VERDEPRYN is one of the best solutions for Spotted Wing Drosophila control
VERDEPRYN® 100SL insecticide is a top performer and the #1 diamide insecticide for protecting cherries and berries from Spotted Wing Drosophila in California, Florida, Georgia, Maine, Michigan, New Jersey, New York, North Carolina, Oregon and Washington.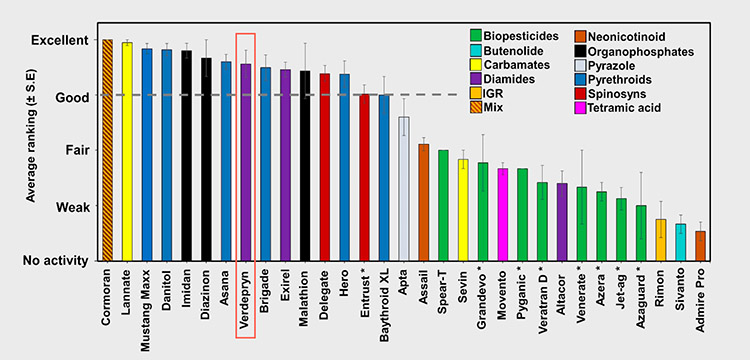 This is according to a new USDA-funded poll conducted by researchers from the University of Maine and the University of Michigan. The poll surveyed entomologists and industry stakeholders in ten states, who consistently ranked VERDERPYN as one of the best ways to control Spotted Wing Drosophila.
Importantly, VERDEPRYN was the top-ranked diamide insecticide in the poll. This is further proof that VERDEPRYN is the perfect fit for effective pest management programs that keep resistance in check.
However, VERDEPRYN offers more than just proven protection from Spotted Wing Drosophila for stone fruit, berries and grapes. It is an excellent broad-spectrum insecticide that can deliver remarkable control of many other key insect pests, including:
Codling Moth
Cherry Fruit Fly
Plum Curculio
Grape Berry Moth
Obliquebanded Leafroller
Omnivorous Leafroller
Japanese Beetle
And many more
Click here to learn more about VERDEPRYN.